With freshly-powdered mountains in winter, golden beaches in summer and out-of-this-world scenery all year round, the real question should be why wouldn't Aotearoa (New Zealand) be on your 2019 bucket list? We're a little bit in love with this South Pacific gem, so here's 8 reasons why you should visit New Zealand next year.
1. The views
Directors around the world are obsessed with using NZ as a set for blockbuster movies, and that alone proves that the scenery is absolutely next level. From alpine ranges that look like the Himalayas' little brothers and lush rainforests that rival South East Asia to the actual Hobbiton used in the movies, New Zealand's insane landscapes are reason alone to add it to your travel plans. Whether you're a professional photographer, an aspiring Instagrammer or just love taking in the moment, you're guaranteed to fall in love with the natural beauty of this country.
2. The people
There's not many places in the world where you'd be greeted with a friendly "morning!" as you walk past total strangers on your 8am coffee run, but that's a common occurrence in Kiwi towns. The big cities are diverse and open-minded, meaning anyone and everyone is accepted, and the rural areas are proud of where they're from and want to make visitors feel at home. It's not unheard-of for a local mum to invite tourists in for to stay so they don't have to sleep in their car. Even better, one mum ended up being the mother of an All Black, and the tourist was there to watch the Lions rugby team play against her son. Now THAT'S hospitality!
3. The rugby
Seamless segue to the next point, sports fans can't visit New Zealand without thinking about the All Blacks. Often hailed the best team in the world (and current World Cup champions), the ABs are much more than a bunch of guys on a field to Kiwis, they're a religion. September 2019 will see Japan hosting the next World Cup, but you can be sure that the whole of NZ will get involved with the event excitement. Expect giant big screens playing all the games live, celebrations each time the boys win and, all going well for them, a champions homecoming parade. Even if you're a rival supporter, it's a pretty amazing atmosphere to be a part of.
4. The culture
Aotearoa's Maori roots are woven into every bit of the country, from the odd Maori word being used (Aotearoa for New Zealand, kia ora for hello, kai for food) to the famous haka dance and full-on tourism experiences like marae (a communal meeting place) visits. Whakarewarewa Maori Village in Rotorua is one of the most well-known spots to experience New Zealand's unique heritage, with a traditional welcoming ceremony, authentic geothermal hangi (food cooked underground) and the chance to learn about legends and stories passed down through the generations. The country's pride for the Maori culture is really special to see, especially at a time when race tends to divide more than it unites. Positive vibes all-round!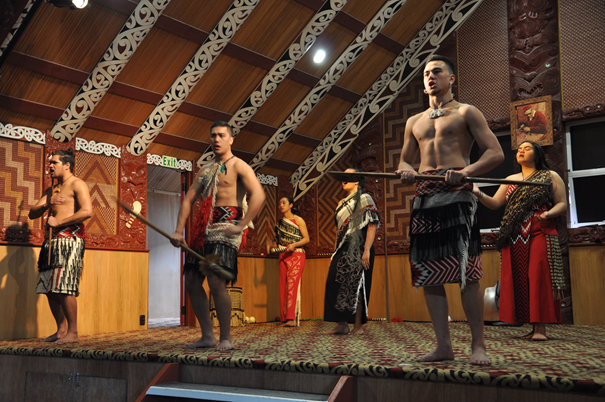 5. The road trips
In New Zealand, every route is the scenic route. Lock in your own set of wheels and see black sand beaches, bright blue waterfalls, white mountains and dense native forests all in the same day, not to mention the stunning landscapes you'll pass through on the way. The roads are decent, traffic is hardly ever a problem outside of the major cities, and there are campgrounds dotted all around both islands if you're camping. We dare you to find a destination that's easier to explore by car.
6. The food and drink
Not usually known for its gastronomic scene, we reckon NZ is actually a fantastic place for foodies. From succulent local meat and fresh seafood to organic farmers' markets and every type of fusion under the sun, Kiwi food culture is growing day by day. Brunch your way around Auckland, search for the perfect coffee shop in Wellington, sample renowned Bluff oysters in the town of the same name, and dine on fish and chips at the beach while the sun goes down. Thirsty? Chase it with an ice cold L&P, world famous in New Zealand.
7. The thrills
See yourself as a bit of an adventurer? Get ready for an adrenaline boost because this place has jet boating, sky diving, bungy jumping, off-piste skiing, mountain biking and loads more. It's no secret that NZ is a country packed full of activities for people who just can't still, and some of them will even make the most fearless travellers tremble in their boots. Would you rather skydive at 16,000 ft, bungy jump from 134m high over a raging river or white-water raft over a 7m waterfall? How about you try them out and let us know which one's best!
8. The hikes
Besides the benefits of fresh air and exercise (boring!), in your NZ hikes will be rewarded with the most magical views. From short walks to untouched beaches or one dayers up Lord of the Rings' Mount Doom (Mt Ngauruhoe) to multi-day treks through thick national parks, trekking is a must-do on any Kiwi adventure. There's tracks all around the country of varying difficulty, just do your research before you go so you know you're prepared. Don't be that guy who tries to climb Tongariro in thongs with nothing but a six pack. Of beer that is, not abs.
And on that note, we're booking flights. Who's coming with us?